Contributions à la Paléontologie du Miocène Moyen continental du Bassin du Tage. III - Mammifères - Póvoa de Santarém, Pero Filho et Chões (Secorio). Conclusions générales
Miguel T. Antunes

Pierre Mein
Abstract
Key words: Mammalia - rodents - datation - correlation ecology
- middle Miocene - Tagus'basin

This study on middle Miocene mammalian faunas from Tagus'basin deals particularly with some small mammals hitherto undescribed from Portugal, including a new Glirid (Paraglirulus scalabicensis nov. sp.); it allows an accurate datation by biostratigraphical standards, Megacricetodon crusafonti, Fahlbuschia darocensis, Cricetodon jotae being characteristic of mammalian MN6 unit, thus their age is nearly that of Sansan and Manchones (however the presence of Peridyromys hamadryas and Lagopsis verus do suggest, amidst this biozone, a somewhat later age than Sansan's); it contributes with indirect correlation data with marine formations, as underlying oyster-bearing beds most probably are in correspondance to the apogee of the same transgression that deposed near Lisbon "schlier" facies from VI-a division (Serravalian, Blow's zones 10-13, Globorotalia meyeri zone); thc diversity of mammalian assemblages is surely related to an environement with varied biotopes, whose characterisation becomes easier if account is taken of the preceding papers on mollusks (G. True) and Cyprinid fishes (1. Gaudant), and also according to some unpublished paleobotanical data (1. Pais).
A table with a synthesis of all paleontological data so far known is
presented.
Downloads
Download data is not yet available.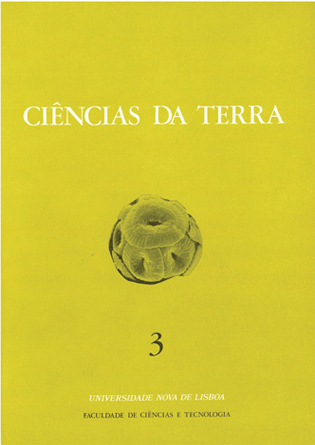 How to Cite
ANTUNES, Miguel T.; MEIN, Pierre. Contributions à la Paléontologie du Miocène Moyen continental du Bassin du Tage. III - Mammifères - Póvoa de Santarém, Pero Filho et Chões (Secorio). Conclusions générales.
Ciências da Terra / Earth Sciences Journal
, [S.l.], v. 3, july 2008. ISSN 2183-4431. Available at: <
http://cienciasdaterra.novaidfct.pt/index.php/ct-esj/article/view/49
>. Date accessed: 13 june 2021.
Distribution Settings / Permissions / Copyright Notice