Contributions à la Paléontologie du Miocène Moyen continental du Bassin du Tage. I - Quelques mollusques - Pero Filho, Póvoa de Santarém, Sítio do Mirante
Abstract
Key words: Continental mollusks - ecology - middle Miocene
- Tagus'basin

Some land and freshwater mollusks (Gastropoda, Pelecypoda) from three middle Miocene localities: Pero Filho, Povoa de Santarem, Sítio do Mirante, all in Ribatejo province, Portugal, are summarily
studied.
On a systematical viewpoint it has been shown (see also Tableau): - the presence of the genus Janulus, whose species only survive now at Madeira and Canary's islands;
- the presence of "Helix" cotteri that may indeed belong in the genus Megalotachea, common in western Europe since "Helvetian" to Messinian times;
- Limax, Testacella, Acroloxus and Pseudamnicola are quoted for the first time in portuguese tertiary formations; Ferrisia has been identified for the first time in Iberian Peninsule;
- the presence of other forms previously quoted by ANTUNES & ZBYSZEWSKI (1973), is confirmed: Bithynia, Theodoxus.
Pisidium.
Such faunules are compatible with a middle Miocene age. On a paleobiogeographical viewpoint, some forms suggest mediterranean
affinities. .
Fossil associations do correspond ecologically to either palustrine or stagnant, calm and shallow water conditions (Sítio do Mirante, and essentially also Povoa de Santarem), or to fluviatile conditions (Pero Filho).
Downloads
Download data is not yet available.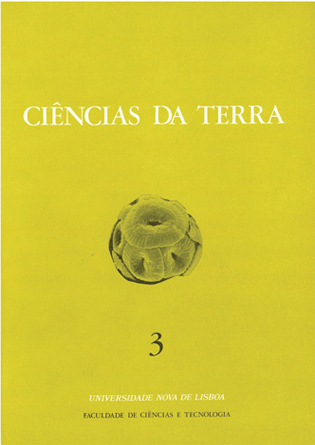 How to Cite
TRUC, G.. Contributions à la Paléontologie du Miocène Moyen continental du Bassin du Tage. I - Quelques mollusques - Pero Filho, Póvoa de Santarém, Sítio do Mirante.
Ciências da Terra / Earth Sciences Journal
, [S.l.], v. 3, july 2008. ISSN 2183-4431. Available at: <
http://cienciasdaterra.novaidfct.pt/index.php/ct-esj/article/view/47
>. Date accessed: 13 june 2021.
Distribution Settings / Permissions / Copyright Notice