Dinossáurios Eocretácicos de Lagosteiros
Abstract
According to an ancient folkloric legend, Our Lady, stepping down from the sea, would have rided on a mule to the platform above the cliffs named Pedra da Muaat Lagosteiros'bay, near Espichel cape. Mule's footprints, regardecl by fishermen as evidence, would be clearly recognizable on exposed surfaces of the rocks. Indeed there are footprints but from Dinosaurs of latest Jurassic, Portlandian age, this spectacular locality being specially rich in giant Sauropod tracks (that have seldom been found elsewhere in Europe).
As we proceeded to its study, another locality with Dinosaur footprints, Lower Cretaceous (Hauterivian) in age, was found on the northern cliffs at Lagosteiros. It is probably the richest one in european Lower Cretaceous and the only of this age known in Portugal, so we decided to give, priority to its study.
Dinosaur tracks have been printed on calciclastic sands in a lagoonal environment protected by fringing coral reefs. There have been emersion episodes; beaches were frequented by Dinosaurs. Later on, the marine barremian ingression restablished a gulf and such animals could not come here any more. Under a paleogeographical viewpoint, the evidence of a marine regression near the end of Hauterivian is to be remarked.
Five types oftracks and footprints Have been recognized:
- Neosauropus lagosteirensis, new morphogenus and species, tracks from a giant Sauropod, perhaps from Camarasaurus; with its proportions the total length of the author would be about 15,5 m. These are the only Sauropod tracks known till now in Europe's Lower Cretaceous.
- tracks from a not so big quadruped, maybe a Sauropod (young individual?); however it is not impossible that they were produced by Stegosaurians or Ankylosaurians.
- Megalosauropus (? Eutynichnium) gomesi new morphospecies, four Theropod tracks. most probably produced by megalosaurs.
- Iguanodon sp., represented by some footprints and specially by a set corresponding to the feet and tail from an individual standing in a rest position.
- problematical, quite small-sized biped (maybe an Ornithopod
related to Camptosaurus).
Evidence points to a richer fauna than that known in barremian "Dinosaur sandstones" from a nearby locality, Boca do Chapim. Lagosteiros'association clearly indicates the predominance of herbivores, which required large amounts of vegetable food in the
neighbourhood. This is an indirect evidence of the vegetal wealth, also suggested by assoCiations of plant macrofossils, polen and spores found in early Cretaceous sediments at the same region.
The relatively high proportion of Theropoda is related to the wealth of the whole fauna, which comprised a lot of the prey needed by such powerful flesh-eaters. The evidence, as a whole, points out to a warm and moist climate.
All the tracks whose direction could be measured are directed to the southern quadrants, this being confirmed by the approximative direction of other footprints. Massive displacements (migration?) could take place during a brief emersion episode, This may result from the ingression of barremian seas, flooding the region and restablishing here i small. gulf. Even if the arrival of the waters damaged certain footprints it has not destroyed them completely, thus allowing the preservation of such evidence from a remote past.
Downloads
Download data is not yet available.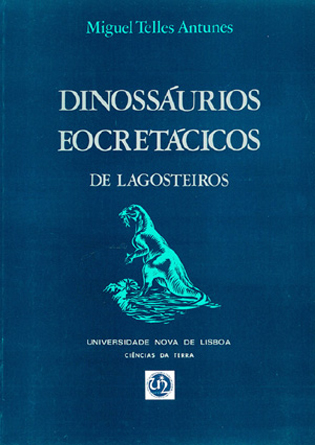 Distribution Settings / Permissions / Copyright Notice